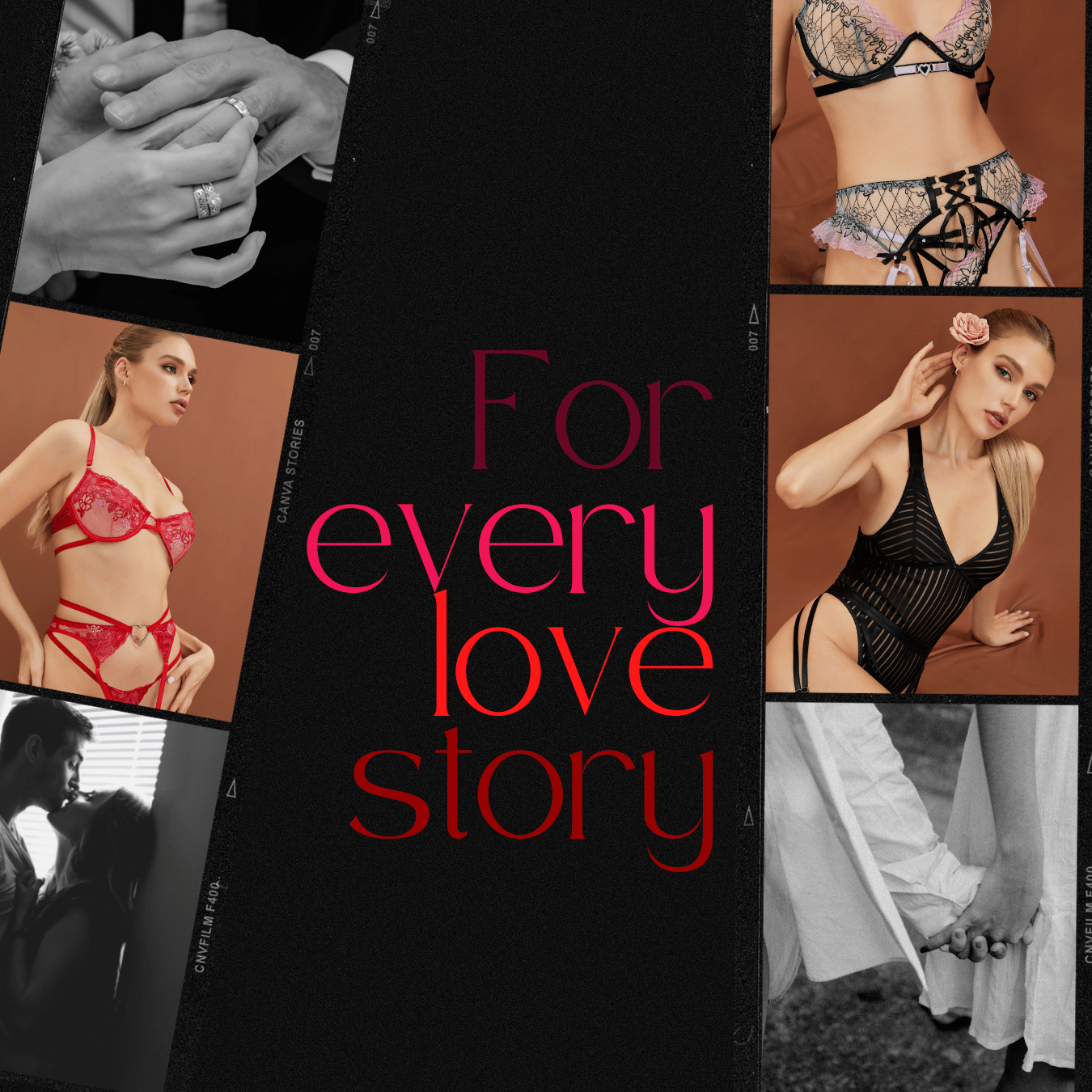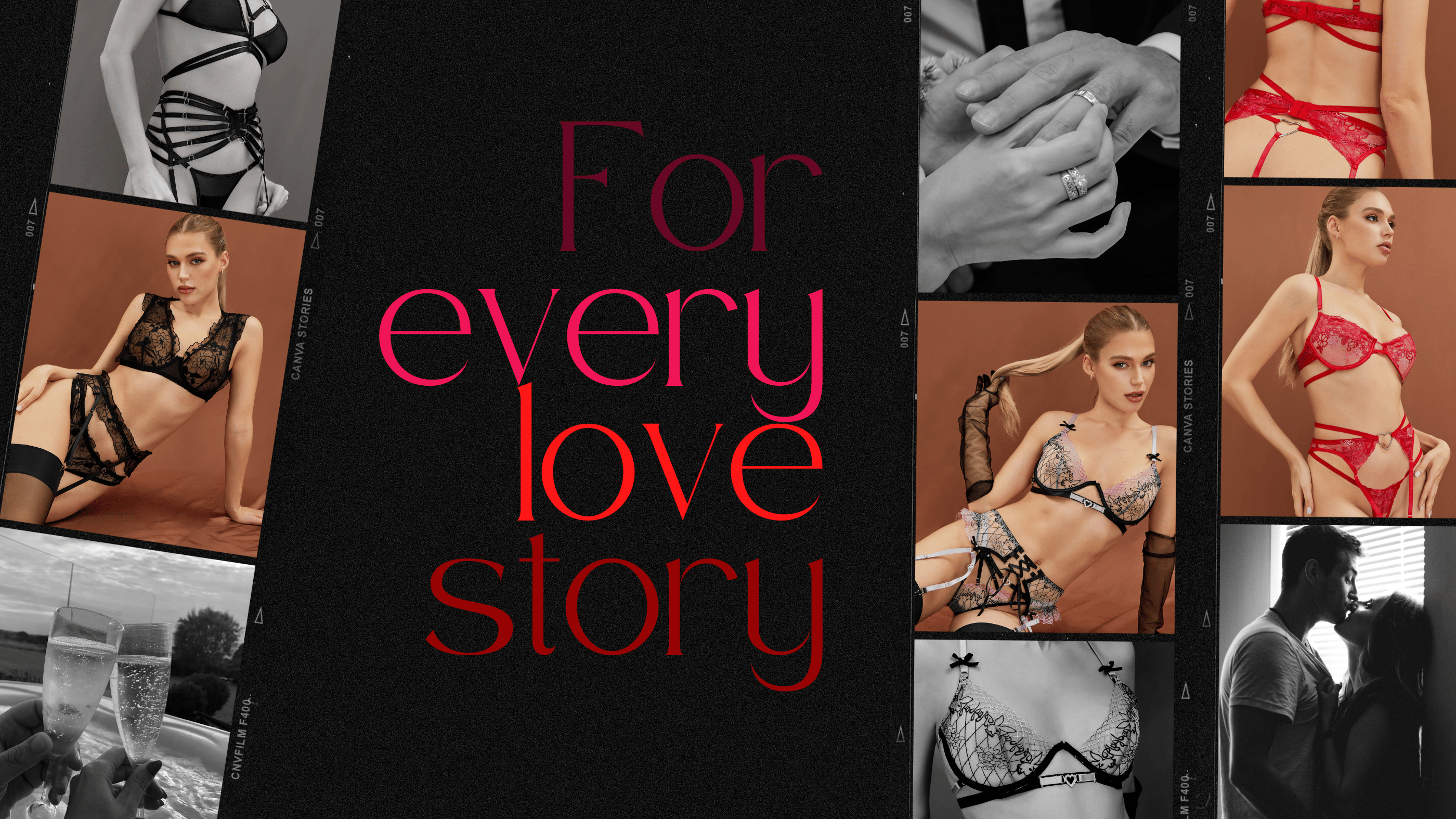 Valentine's Day Lingerie FAQs
What color lingerie should I wear for Valentine's Day?

Valentine's Day is often taken over by red, pink, and fuchsia colors, so some of the classic Valentine's Day lingerie choices are red lingeries or pink teddies. Red and pink lingerie sets are bold and sexy, but black is another popular Valentine's Day lingerie choice.
Regardless of what romantic occasion you are celebrating, Valentine's Day, anniversary, or even honeymoon, the black lingerie set is a classic choice because of its timeless elegance!
Valentine's Day is filled with love messages and the iconic "❤️ " shape. So choosing lingeries with a heart design might be a good choice! Many of our Valentine's Day lingerie sets have heart embroidery. The black three-piece lingerie set with the heart shapes "CRAZY NLOVE" uses a romantic heart pattern to make a complete outfit. At the same time, due to their popularity, the Orange Heart lingerie and the sweetheart lingerie sets have become our permanent collection from previous Valentine's Day releases. The heart pattern is playful. With sheer fabric, they become less "adorable" and more "sexy"; that is the look we are going for!

What else should I buy with a Valentine's Day lingerie set?

Valentine's Day is an extraordinary day in the year because it celebrates our very own fairytale love stories. Dress up for your partner and making them feel appreciates is the key to any lingerie occasion. Not only it shows off your confidence, but it also lets our boo be reminded of how much we love them!
Some of these accessories can take your lingerie outfit to the next level! Sheer gloves from Moxy Intimates are a staple for our boudoir photoshoots because they look elegant. Add these elbow gloves with your lingerie, no matter if it's two pieces, three pieces, or a bodysuit. These sheer long gloves will instantly elevate your lingerie set.
Another must-have accessory to go with your Valentine's Day lingerie are thigh high stockings. Their satin finish is beautiful under dim lighting and will complete your lingerie look with or without garter belts.
Some other accessories we like for lingeries are jewelry! They will always make you appear more dressed up, don't they? Earrings and necklaces can also accentuate your face and shoulder curves and do wonders to elongate your neck.
How to buy my wife lingeries for Valentine's Day?

First of all, you are great for wanting to gift lingerie this Valentine's Day. Lingeries are great for reminding her how sexy she is, even if you have been together for many years! It is important for everyone to feel attractive and wanted in a healthy relationship! And a friend once told me the best gift is the kind that will benefit you, too!
So when choosing lingerie for your wife, you should consider her insecurities with her body. Make sure the size you choose is close to her real measurements. I recommend you check out the size chart in every product listing or the sizing page (on our main menu under "Moxy"). If you need more clarification about her bra size, try to peek at her bra clothing tag at home. And find the size from our size chart accordingly.
Finding bras that will fit perfectly takes work. Still, most of our lingeries is adjustable and more tolerant than traditional bras and underwear because of their adjustable and unpadded design.
A shortcut to your Valentine's Day lingerie gift is a lingerie gift card. A prepaid gift card for her to choose something she likes for her special night together. This way, you get to be the surprised one! And it will make sure to choose the right size or style that she will be comfortable wearing it.
It is important to know that only some have the same comfort level with different lingerie designs. Some sheer lingerie could be too bold for your partner, and some might prefer more reserved styles like bodysuits. So gifting a lingerie gift card might be a good idea!